Article content
Renfrew County Catholic District School Board has been busy these last two months beginning with December which was full of joy and gratitude during the Christmas season. Before the break, Our Lady of Sorrows School in Petawawa took part in fundraising activities to give back to the community. These events happen annually and offer a wonderful opportunity for students and their families to spread kindness during the holiday season.
Article content
"The staff and students of Our Lady of Sorrows continue to live out the 2021-2022 board theme: 'To act justly, and to have mercy and walk humbly with your God' -Micah 6:8," said Principal David Noble.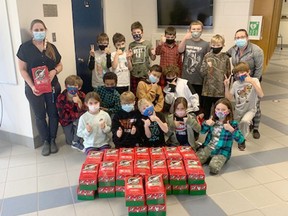 With this theme in mind, the school took part in a 'Christmas Angels' fundraiser for the community raising $254.
"The proceeds went to the Petawawa Pantry and towards gift cards for some of our families in need. Each class also took part in a school-wide food drive. The school community donated 11 boxes of food and toiletries which also were given to the Petawawa Pantry," Noble said.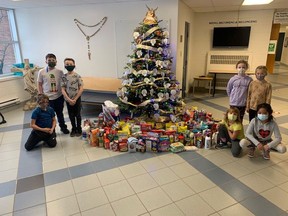 Amongst these acts of kindness, Noble says it didn't end there. Our Lady of Sorrows school community also filled 33 shoeboxes for Operation Christmas Child and took in $450 in monetary donations.
"We are truly blessed to have such a caring school community," Noble said.
Moving forward into the new year, he says the students and staff continue to show their resiliency regardless of the circumstances that they have been faced with.
"We will continue to work together as a school community to nurture our students' academic, social, emotional and spiritual growth," he said.
Just a couple streets over, St. Francis of Assisi took part in the Holiday Gift Shop in December. Karen Keels, principal of St. Francis of Assisi, explained that members of the school council organized a holiday gift shop which allowed students to buy gifts for their family members in a safe environment.
Article content
"It was a huge success; we are very grateful to our school council for organizing a wonderful event," Keels said.
After the Christmas break, students returned to class remotely given the restrictions in place at that time.
"Staff and students alike worked very hard to connect virtually and continue building on the amazing teaching and learning that normally takes place in the classroom. We are very proud of our school community for actively participating in their learning, and maintaining such positive attitudes given the challenging circumstances," Keels said.
Students returned to in-person learning on Jan. 17. January 24th to 28th was Wellness Week in the RCCDSB. Keels said staff and students participated in each of the spirit days, including celebrating their differences on Jan. 26.
According to Keels, many exciting and educational activities were planned for the classroom, too. In Mrs. Kozuska's Grade 1/2 class, they were wrapping up shapes and symmetry.
"Some great thinking was required as some shapes needed to be joined together to make a specific shape," Keels stated. Students used their problem-solving skills to participate in these activities.
Mrs. Brohart's students in Grade 2/3 have been applying their understanding of force, motion, and simple machines by designing their own Rube Goldberg machines.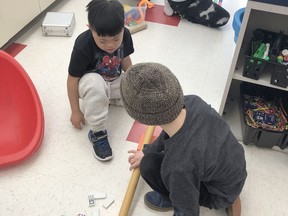 In Mrs. Watson's Grade 4/5 class, students were given Mini Egg chocolate chip cookies to explore the mining process by extracting valuable minerals (mini eggs) and chocolate chip ore in a sustainable way. Like a government official, students had to take into account the community, the need for the ore (chocolate is in high demand), and how this will affect the environment (the cookie) and economy (the amount of money you have at the end of the activity).
Finally, with all the snow we received in Renfrew County in January, students were thrilled to enjoy more time outside.
"With the increase in restrictions, many of our classes enjoy taking advantage of extra time outside to enjoy the fresh snow and fresh air," Keels said.
https://www.gananoquereporter.com/news/local-news/good-news-from-our-schools-rccdsb-express-their-kindness-are-welcomed-back-with-engaging-activities