Buy / Sell Equitas Bank share
Shares of Equitas Small Finance Bank fell as much as 10.62 percent to Rs 53 apiece on the BSE as the Street reacted to its managing director and chief executive officer PN Vasudevan resigning from the bank. Vasudevan is also the founder of Equitas Small Finance Bank.
The stock opened with a loss of 2.11 percent and has fallen after 8 consecutive days of gains. At 12:33 pm, the shares of Equitas SFB are quoting at Rs 53.05 per share, down 10.54 percent or Rs 6.25.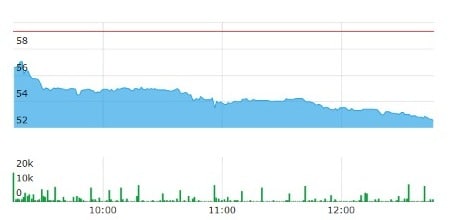 Equitas SFB intraday stock chart (source: BSE)
The board in its meeting held today (May 19, 2022) has taken the letter on record and wishes to place on record its deep appreciation of the contribution made by Vasudevan over the years, the bank said in a statement
The board would be forming a search committee shortly to undertake the process of identifying a successor. Vasudevan would continue as the MD and CEO till the succession and transition process is completed, it said.
Also Read:
In an interview with CNBC-TV18, Vasudevan said that he will be happy to be associated with Equitas if the Reserve Bank of India (RBI) permits. He shared that he will continue until a successor is found.
In his letter to the lender's Chairman Arun Ramanathan, Vasudevan said he along with his wife have created a public charitable trust in their daughter's name, Varshini Illam Trust. He said that they are running an adoption centre and have found a home for about 30 abandoned babies basis through government adoption process.
Vasudevan said many of these babies have development deficiencies. To address this problem they have launched a project in the trust to take quality medical and therapy treatment to rural and semi-urban areas at their door-step to those in the age group of 0-3 years.
"In view of the above, I request the board to look for a successor to my current position. I would be happy to be of help in identifying my successor, who, I am confident, would steer the bank into its next phase of growth keeping the values and ethos with which we had started Equitas," Vasudevan wrote in the letter.
Prior to joining the bank, he was the managing director of EHL. Vasudevan holds a bachelor's degree in science (physics) from the University of Madras. He is a qualified company secretary from the Institute of Company Secretaries of India.
He has extensive experience in the financial services sector and had served as the executive vice president and head of the consumer banking group in Development Credit Bank Ltd, for more than one and half years.
https://www.cnbctv18.com/business/companies/equitas-small-finance-bank-md-and-ceo-pn-vasudevan-resigns-13546412.htm